Responsibility - Chief Officer on Board || Tugas & tanggung jawab Mualim I diatas kapal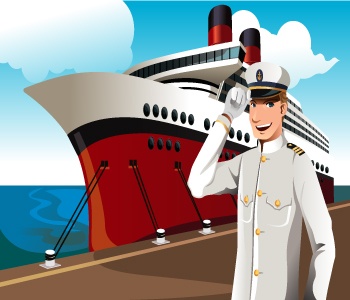 • Second in Command, and deck executive officer.
• Assumes command if Master dies or is incapacitated.
Mengambil alih komando jika Nakhoda meninggal atau berhalangan / tidak mampu.
• Carried out the 4-8 watch at sea and in port.
Bertugas jaga 4-8 (04.00 – 08.00 & 16.00 – 20.00) waktu kapal, selama kapal berlayar (di anjungan) dan saat berada di pelabuhan (di atas kapal).
• Act as Ship Safety Officer
Bertindak sebagai perwira keselamatan kapal.
• Operating and updating of Maintenance System and record-keeping.
Mengoperasikan dan memutakhirkan pada Sistem Perawatan Deck dan menyimpan catatancatatannya.
• Planning and supervising maintenance deck, accommodation, life-saving equipment, ballast tanks, and cargo-holds in a general vessel outside the engine room, except technical maintenance.
Merencanakan dan mengawasi perawatan di dek, ruang akomodasi, peralatan penyelamat jiwa (LSA), tangki - tangki air ballast, ruang-ruang kargo, bagian luar kamar mesin secara umum, tidak termasuk / kecuali perawatan teknisnya.
• Cargo the operation, planning, calculations, and preparations for discharging and loading.
Operasi bongkar / muat kargo, perencanaan, penghitungan dan persiapan-persiapan untuk membongkar dan memuat.
• To inform 2nd and 3rd Mate on all relevant aspects of cargo operations, and to issue the necessary instructions and orders for Duty Officers deck, to execute their duties during cargo operations, day and night.
Memberitahu Mualim 2 dan Mualim 3 tentang aspek-aspek yang relevan dari operasi-operasi kargo, dan menerbitkan instruksi-instruksi dan perintah-perintah yang diperlukan untuk Perwira deck jaga, untuk melaksanakan tugas-tugasnya selama berlangsung operasi-operasi kargo, siang dan malam.
• Cargo care (include hold ventilation, temperatures, humidity control) and recordkeeping, safety, and securing.
Pengawasan kargo (termasuk ventilasi ruang kargo, pengontrolan suhu dan kelembaban) dan penyimpanan catatan-catatannya, keselamatan dan pengikatannya.
• Ballast operations, trim, stress, and stability.
Operasi-operasi air ballast, penghitungan trim, stres dan stabilitas kapal.
• Cargo documents and cargo information, Port Logs, Timesheet, and other reports to Charterers.
(Penyimpanan / penyelenggaraan) dokumen-dokumen kargo dan informasi tentang kargo, buku harian kegiatan di pelabuhan (Port logs), Lembar catatan Waktu kerja / istirahat (Rest Hour Record) dan laporan- laporan lain untuk Penyewa-penyewa Kapal.
• General seaworthiness deck and cargo.
Kelaiklautan dek dan kargo pada umumnya.
• Supervising securing of anchors, winches, and deck cranes.
Pengawasan pengamanan jangkar-jangkar, winch-winch dan cranes pengangkat di dek.
• Anchoring, mooring, and arrival/departure procedures.
(Penerapan) prosedur-prosedur berlabuh jangkar (anchoring), pengikatan kapal di dermaga / bui (mooring) dan kegiatan-kegiatan saat kapal tiba / berangkat.
• Fire-and lifeboat drills and training.
(Penyelenggaraan) latihan-latihan dan pelatihan kebakaran & menurunkan sekoci penolong.
• Fire-fighting deck, accommodations, and cargo compartments. If Chief Engineer is incapacitated, also in charge of fire-fighting engine-room.
Pemadaman kebakaran di dek, raung akomodasi dan di ruang-ruang kargo. Jika KKM berhalangan / tidak mampu juga bertanggung jawab untuk memadamkan kebakaran di kamar mesin.
• Purchasing & requisitioning deck stores and supplies.Record-keeping of purchases.
Pembelian & pemesanan untuk perbekalan dan pasokan keperluan dek. Penyimpanan catatan pembelihan perbekalan & pasokan keperluan dek.
• Spareparts, systematic inventory, and control (for Radars and other bridge installations, deck maintenance equipment for paint spraying, high-pressure pumps, etc.
(Pengawasan) suku cadang, kontrol sistimatis daftar inventaris (untuk Radar-radar dan instalasi anjungan lainnya), perawatan peralatan dek untuk pengecatan semprot, pompa-pompa bertekanan tinggi dll.
• Safe and economical storing and use of stores and supply
Penyimpanan dan penggunaan barang perbekalan dan pasokan secara aman dan ekonomis.
• Training and evaluation of apprentices and trainees.
Pelatihan dan evaluasi pelatihan dari kadet-kadet (apprentices) dan pengikut pelatiham (trainees).
• In-charge of Hospital, first-aid, and medicine inventory.
Bertanggung jawab atas penyelenggaraan rumah sakit, daftar inventaris untuk pertolongan pertama pada kecelakaan dan obat-obatan.
• Adviser to Master Correspondence
Penasihat Surat-menyurat Nakhoda.
• All electronic mail to the Company to be sent via Master
Semua surat elektronik ke Perusahaan harus dikirimkan lewat Nakhoda.
• All correspondence in ship matters, operational and technical to be countersigned by Master
Semua surat-menyurat tentang masalah teknis dan operasional kapal harus juga ditanda tangangni oleh Nakhoda.
• Reports to Master
Melapor ke Nakhoda.
• Is a member of Ship Management Team
Anggota Tim Manajemen Kapal
• Has responsibility for cargo operations, ballast operations, cargo care, and all maintenance on deck and accommodation except for technical maintenance.
Bertanggung jawab atas operasi-operasi kargo, operasi-operasi air ballast, perawatan kargo dan semua perawatan dek dan ruang-ruang akomodasi, tidak termasuk / kecuali perawatan teknis.
The Chief The officer shall be responsible for all cargo handling and ballast operations. The Chief The officer shall work closely with the Chief Engineer in matters concerning maintenance of the cargo and ballast tanks, all cargo system components, anchor windlass, and mooring winches with all associated equipment.
Mualim satu harus bertanggung jawab untuk semua penanganan kargo dan operasi-operasi pengisian dan pembuangan air ballast. Mualim Satu harus bekerja sama dengan KKM dalam masalah-masalah perawatan tangki-tangki kargo dan air ballast, semua komponen dari sistem kargo, mesin-mesin penarik jangkar (windlasses), dan winch-winch untuk mooring beserta perlengkapan yang terkait.
The Chief An officer shall be a member of the Shipboard Management Team and the Shipboard Safety Committee. The Chief Officer shall randomly verify that deck personnel comply with the Company's Safety Management System, with special emphasis on cargo and ballast operations.
Mualim Satu harus menjadi anggauta Tim Manajemen Kapal dan Komite Keselamatan Kapal. Ualim Satu harus mengecek secara acak bahwa awak kapal dek mematuhi Sistem Manajemen Keselamatan dari Perusahaan dengan penekanan khusus pada operasi-operasi kargo dan air ballast.